This post contains affiliate links which means I may earn a small commission at no additional cost to you when you make a purchase after clicking these links. Read more about affiliate links here. 
EDIT: **This Holiday Pattern Bundle is no longer available. Be sure to join my email newsletter to hear about future bundle deals!**
BIG NEWS! I got together with 20 amazing pattern designers, and we are offering you The 2023 Holiday Pattern Bundle! -- 20 patterns perfect for holiday making and gifting! 
For a very limited time, you can grab all 20 patterns for $19! That's right--less than $1 per pattern! Such a steal! From table runners to tree skirts, wall hangings to quilts, pillows and more...this bundle has everything!
Grab your 2023 Holiday Pattern Bundle HERE.
You do not want to miss out on this price. The bundle will only be available for a few days, from July 20-24th. Don't wait. After that, these patterns will go back to their regular prices, for individual purchase. 
So, what's included?? My included pattern is my Letters Quilt! Just stitch it up in Christmas fabrics and it's a Letters to Santa quilt!
(Check out my mock-ups of the Letters [to Santa] Quilt in newly released Christmas fabrics!)
Here's a list of all the patterns (and a bonus!) included in The 2023 Holiday Pattern Bundle...
Included Patterns:
Merry Xmas Mini Quilt by Kristy Cleverly from Bonjour Quilts
Ho, Ho, Ho Cushion by Jo Westfoot from The Crafty Nomad
Joyful Traditions Wall Hanging by Emily Maxwell from Martha Jane Creations
Holiday Crackers by Becky Jorgensen from Patchwork Posse
Christmas Tree Window Hanging by Elizabeth DeCroos from Epida Studio
Letters (to Santa) Quilt by Casey Chatham from Sew Worthy Mama (Yours, truly!)
Countdown to Christmas Quilt by Tina Curran from Art Quilts by Tina Curran
Locked Up Stocking by Carolina Moore from Always Expect Moore
Dripping Stars by Yvonne Fuchs from Quilting Jetgirl
Tannenbaum Table Runner by Nicole Moore from Sew Much Moore
Spinning Star Tree Skirt by Sara Ruiz from Saroy
Scrappy Holly by Leila Gardunia
Tree Trimming by Tammy Silvers from Tamarinis
All Wrapped Up Quilt Pattern by Kelly R Kirkland from Kelly Renay
Siracusa Gingham by Jessica Rose from Quiltd Studios (I've made this one myself!!)
You Are My Sunshine Quilt Pattern by Becky Smith from Bobbin In Quilts
Steampunk Christmas by Emma Jane Powell from Dream It Quilt It
Festive Bows by Cheryl Brickey from Meadow Mist Designs
Winters Whimsy by Sondras from Art Quilts by Design
Fandango Pillow by Swan from Swan Amity Studios
Plus, a Bonus!
And if those 20 patterns weren't exciting enough, there's also a bonus set of gift tracking sheets to help you plan, track, and finish your quilty gifts in time for the holidays!
Christmas Fabric Collections
Once you've purchased your Holiday Pattern Bundle, you're going to want some snazzy new Christmas fabrics, right? Fat Quarter Shop has you covered. Check out all the new Christmas collections. Some of my favorites right now are:
Favorite Things by Sherri and Chelsi for Moda Fabrics
Twas by Jill Howarth for Riley Blake Designs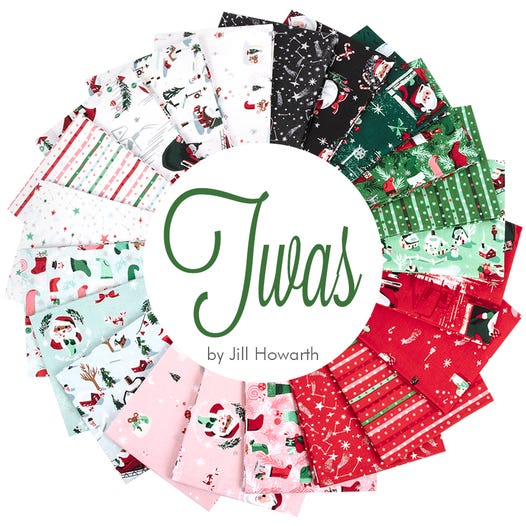 The Magic of Christmas by Lori Whitlock for Riley Blake Designs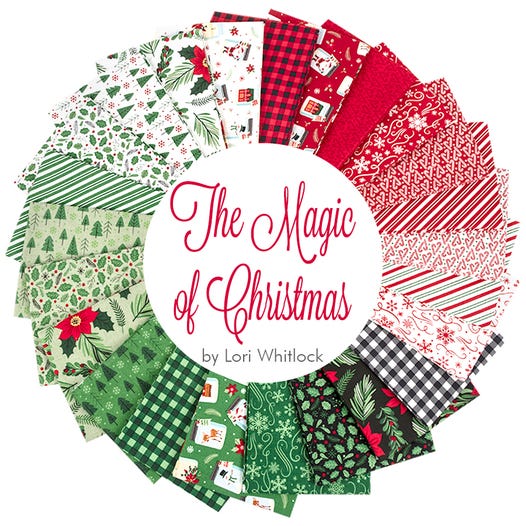 Holiday Cheer by My Mind's Eye for Riley Blake Fabrics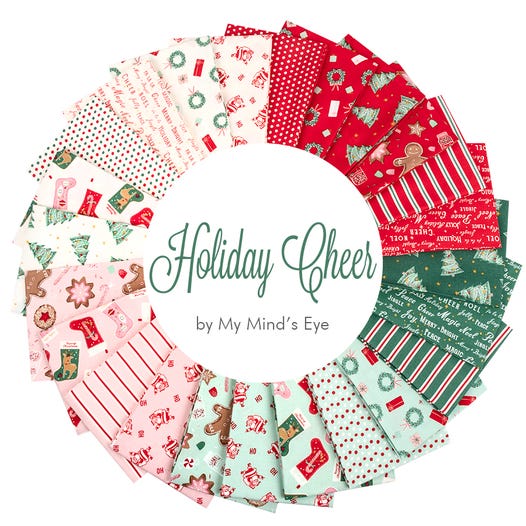 Hurry! The Bundle Ends Soon!
Happy Holiday Sewing! Don't forget, the Holiday Pattern Bundle offer is only good through Monday, July 24th! Grab yours now!